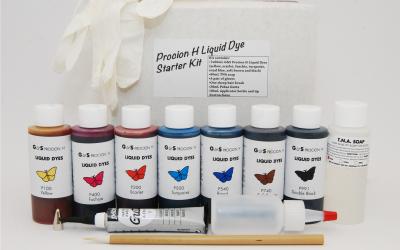 Procion H Silk Painting Starter Kit
Everything you need to get started with Procion H silk painting dyes! This kit includes basic instructions for silk painting and microwave silk dyeing.
Comes with seven 60mL Procion H Dyes, extra small sheep hair brush, 60mL TNA soap, small applicator bottle and tip, 20mL waterbased resist/gutta, pair of vinyl gloves and basic instructions.
Includes the following colours:







*In the event any colours are out of stock, similar colours may be substituted.
8-4-h
Procion H liquid dyes are steam-set silks dyes that require about three hours of steaming time for effective setting. These dyes can also be used in microwave dyeing technique, and have also been used for monochromatic screen printing. *Final product may include packaging different than the ones in the picture. Photo is for reference only.